I usually dislike Christian ripoffs. In fact, I squirm every time I see them. So I came up with the brilliant ripping off an idea from Facebook and printing a 'status update from Jesus'. I think I had seen parodies of Jesus & Judas on Facebook so I thought it might be funny.
I wanted to get the message of Easter across really really quickly. I think you can understand it no matter your experience with Facebook or the Internet. Intentionally it's not 100% Facebook's design – it's the message that really matters and I didn't want to be too picky with how it looked, as long as you got the gist.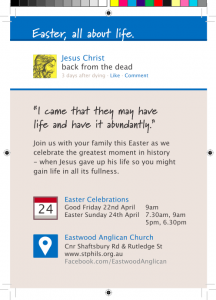 A small detail, but one I thought might help the reader with a friendly recognition was to steal the tagline 'All About Life'. There was a campaign in 2009 'Jesus All About Life' which had national coverage. I wanted to allude to this campaign as a memory trigger to try and at the same time locate in the reader's mind that we were talking about Easter.
Thanks to time restraints, we used the same general design this year (2012) however I couldn't resist updating it to a more contemporary Facebook design. 3 years after the 'Jesus' campaign and with Facebook still going strong – this campaign still feels relevant and easily grasped. Turns out people connect with it too – I had feedback that recipients around the community liked the flyer, and found it compelling enough to come to a church service.