I was born in the 1980s – to a child of the 80s, what single object represents time travel best? You might say it's the phone box from Bill and Ted's Excellent Adventure but I'd say nobody remembers that movie and that's what makes Keanu so sad.
It's definitely the Flux Capacitor from Back To The Future.
It's not hard to see how I got the inspiration for the Full On Time Travel logo from 2011. Really – it's hardly even a design. I've just taken a Back To The Future font and added above it some half baked Flux Capacitor graphic along with it.
But that's why I think it works.  There's no real grand idea here, it's straight forward, fun, and it goes along with a movie doesn't take itself that seriously. I'm very okay with that.
Sometimes I think design can be simply 'jamming' – coming up with very simple ideas and mixing them up a bit. There comes a time when you have to have some economy while working on ideas that don't have a wide application.
6 Frame DL Flyer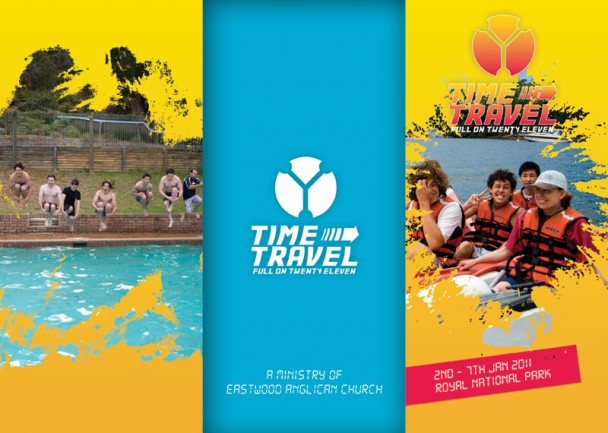 It doesn't even look like Back To The Future – but it looks fun.