Subscribed: 22nd August 2023
First email: 25th August 2023 – 3 days after subscription (average 1.2 days)
Timeline Of First 3 Marriott Bonvoy Emails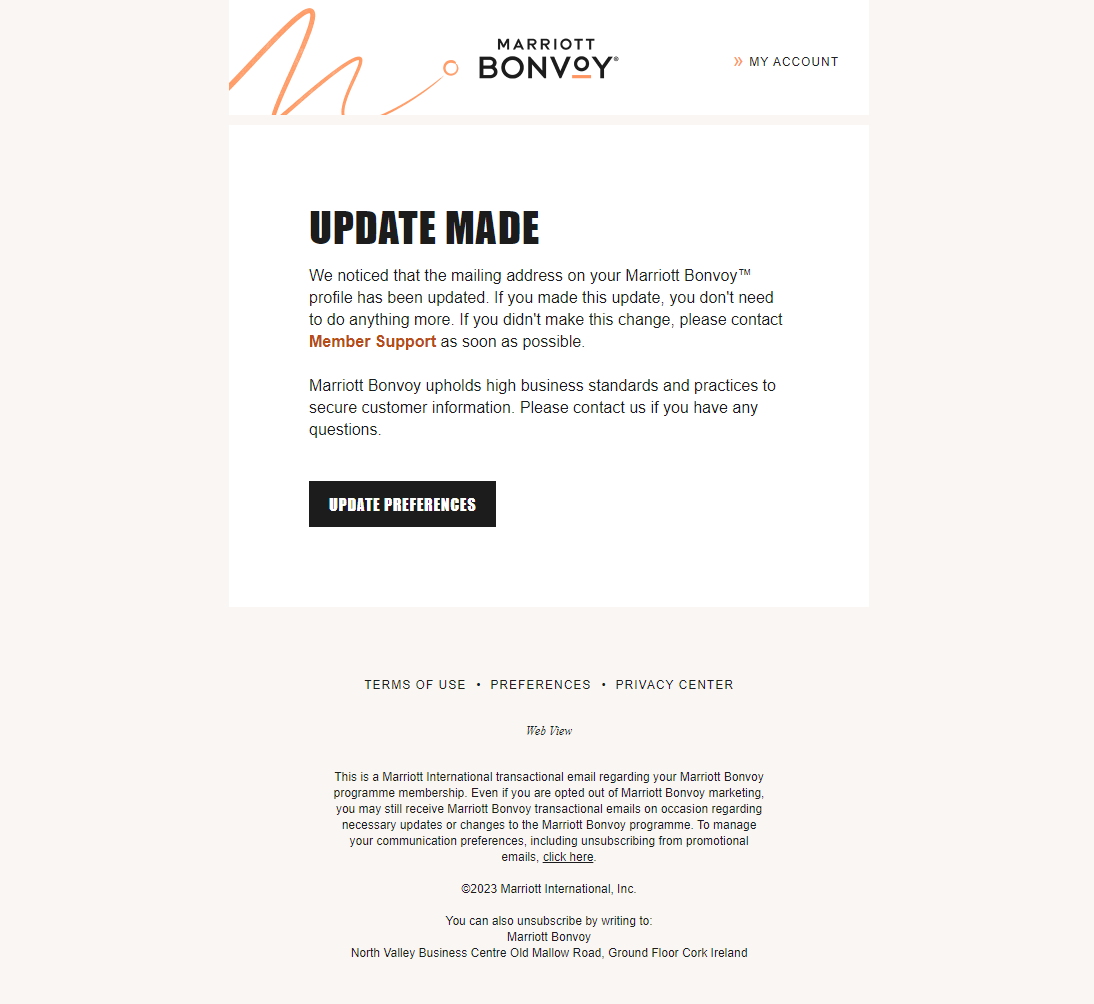 Your Marriott Bonvoy Account Has Been Updated

Thank You for Joining Marriott Bonvoy, {Firstname}
16 Days After Subscription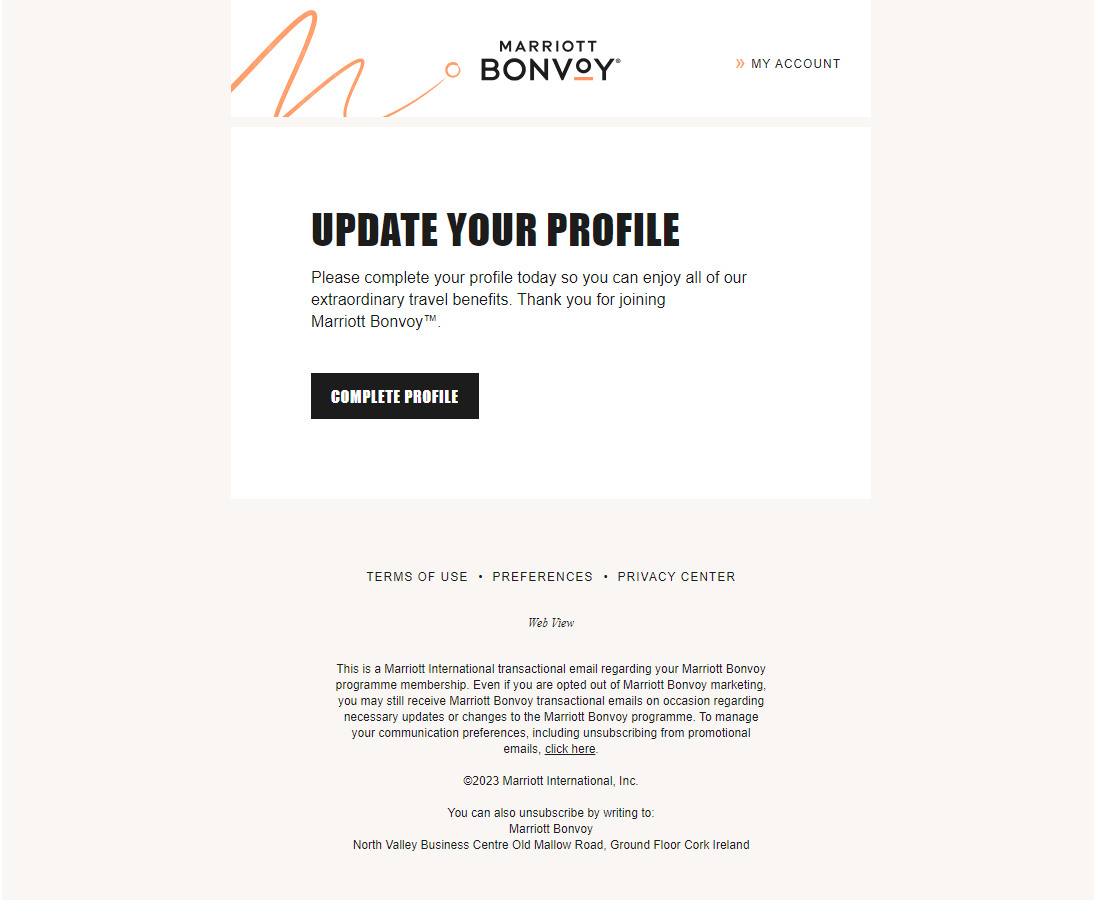 Your Marriott Bonvoy Profile Is Almost Complete
The Highs, Lows, and Buffalos
The high: The email is clear in what to expect, and shows you visually what other emails you will find coming to you soon.

The low: From subscription to first email, 3 days passed. This is the slowest of all travel loyalty programs measured.
The buffalo (surprise): Apparently you can write and post a physical letter to unsubscribe.

What is Marriott Bonvoy?
Marriott Bonvoy is the loyalty program offered by Marriott International, one of the leading players in the global hotel industry. It stands out in comparison to other loyalty programs in the hotel industry for several reasons.
First Marriott Bonvoy Onboarding Email
Subject: Your Marriott Bonvoy Account Has Been Updated
Received: 3 days after subscription
The first email received is largely transactional – at least it was for me. I can't tell if it's because there was already an email address present (there shouldn't have been) or if it's just worded poorly – but it feels like after you subscribe there is an 'update' even though it's the first thing that has happened.
"We noticed that the mailing address on your Marriott Bonvoy™ profile has been updated. If you made this update, you don't need to do anything more. If you didn't make this change, please contact Member Support as soon as possible.

Marriott Bonvoy upholds high business standards and practices to secure customer information. Please contact us if you have any questions."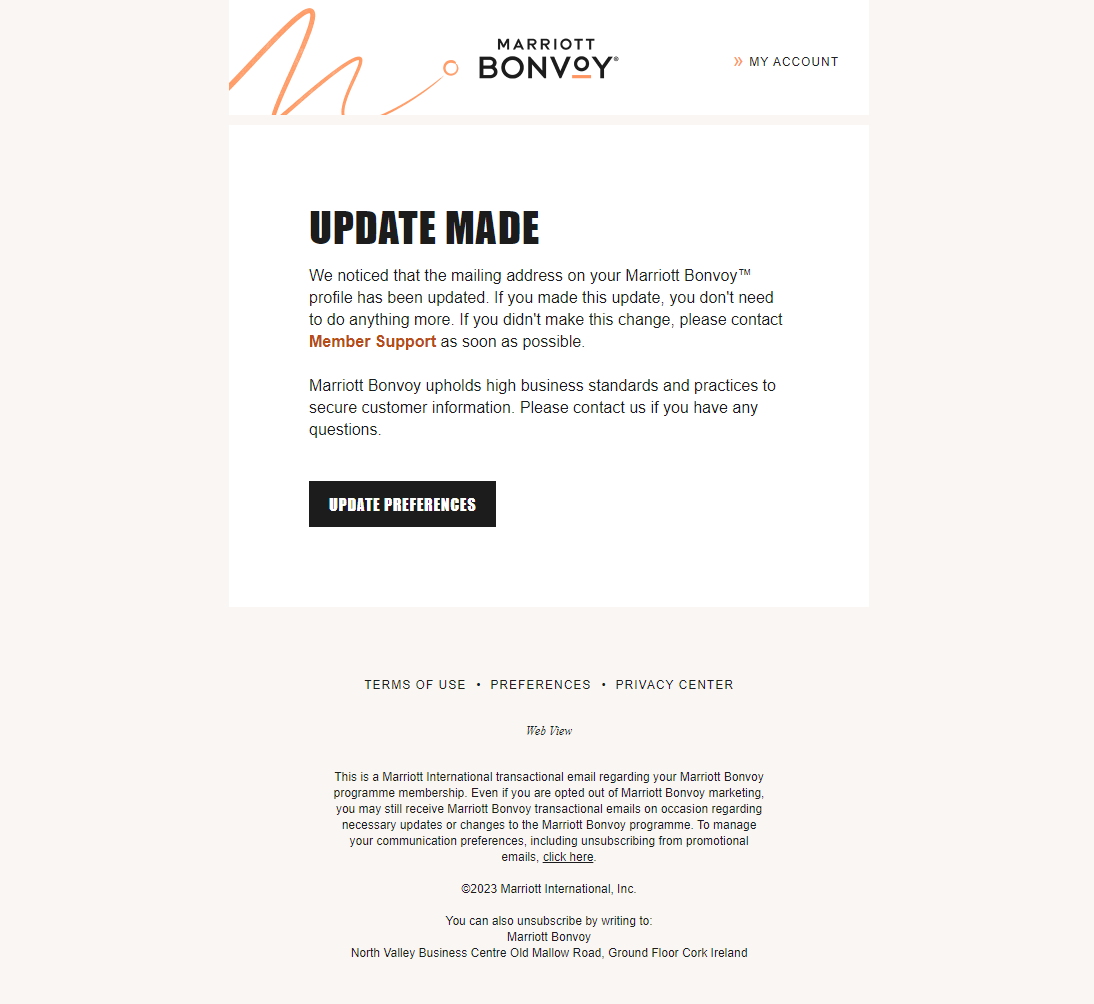 Second Marriott Bonvoy Onboarding Email
Subject: Thank You for Joining Marriott Bonvoy, Marty
Received: 3 days after subscription & same day as 1st email.
While the first email received is a long way after subscription, and is largely transactional detail – the second email is more in depth, with modules displayed having theses intended actions:
Book hotels;
Complete your profile;
Download the Marriott Bonvoy app;
Review benefits of program;
Look out for future emails to come.

Third Marriott Bonvoy Onboarding Email
Subject: Your Marriott Bonvoy Profile Is Almost Complete
Received: 16 days after subscription
I'm going to be honest, it feels like a wasted opportunity to send a single 'update your profile' email after such a long time, however there are two things going for it.
It's single purpose.
It is quick and to the point.
What it does miss out on though is a bit of a data trick. The email is clear that 'please complete your profile' means you haven't done anything. The language suggests that if you do, you can enjoy 'extraordinary travel benefits'. If you were a marketer with data at hand, you could show what current benefits are being missed out on, what updates are needing to be made, and continue to illustrate the usefulness of updating your profile.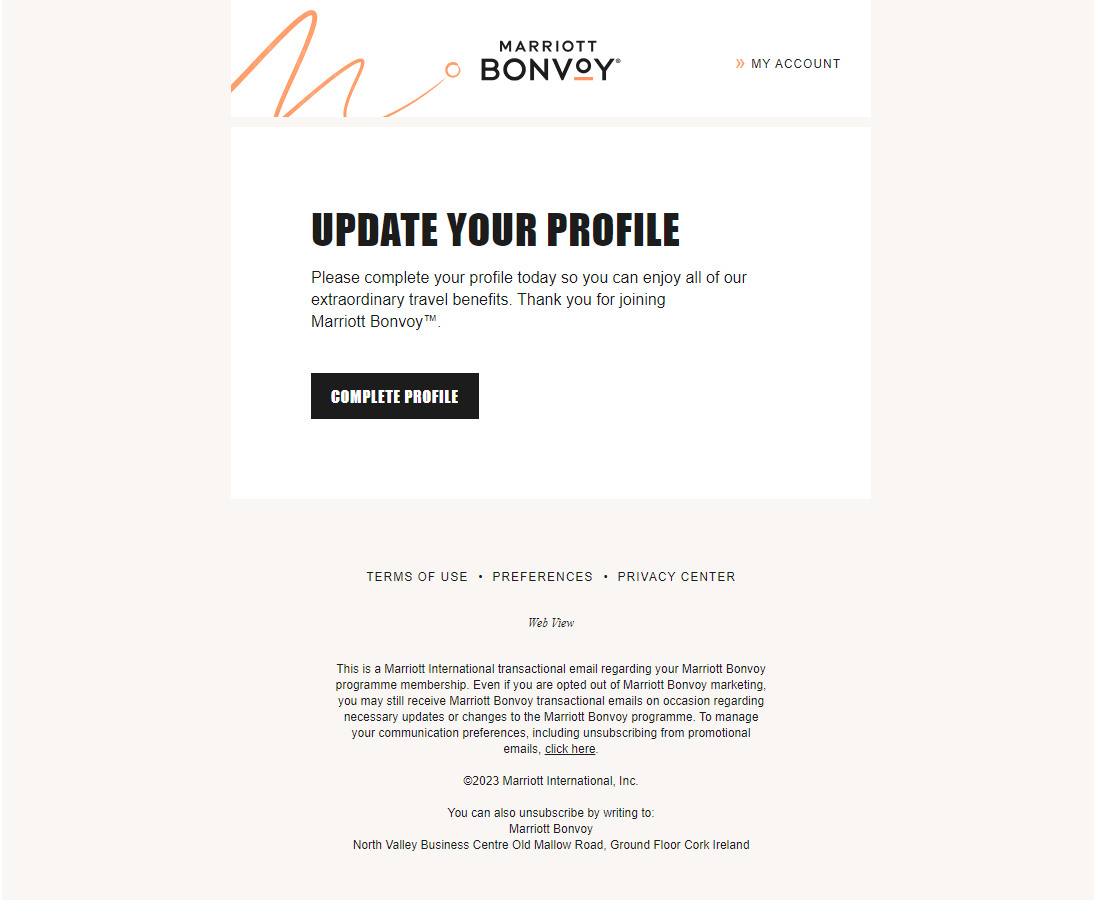 What makes up the Marriott Bonvoy rewards program?
Diverse Portfolio of Brands: Marriott International boasts a diverse portfolio of hotel brands, ranging from budget-friendly to luxury, including names like Marriott, The Ritz-Carlton, Sheraton, and many more. Marriott Bonvoy allows members to earn and redeem points across this extensive range of properties, providing a wide variety of choices for travelers.
Merged Programs: Marriott Bonvoy emerged from the merger of three separate loyalty programs – Marriott Rewards, The Ritz-Carlton Rewards, and Starwood Preferred Guest (SPG). This consolidation simplified the loyalty landscape and included the benefits of all three under a single program.
Tiered rewards: Marriott Bonvoy offers multiple 'elite' status tiers: Silver, Gold, Platinum, Titanium, and Ambassador Elite. Each tier comes with its own set of perks, which can include complimentary room upgrades, late check-outs, and access to exclusive events. This tiered system provides a tailored experience for members based on their loyalty and travel frequency.
Worldwide network: Marriott International has an extensive global presence, with hotels in numerous countries and cities worldwide. This vast network means that Marriott Bonvoy members can earn and redeem points almost anywhere they travel, making it a convenient choice for frequent travelers.
Partner programs and credit cards: Marriott Bonvoy partners with credit card companies, allowing members to earn additional points through co-branded credit cards. The collaboration expands the opportunities for accumulating points.